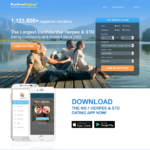 Protect privacy:


Chance of getting a date:


Unique Features:


Customer Service:


Value for money:


Overall Star Rating:

---
PositiveSingles.com, founded in 2002, is the best choice during the 5 online herpes dating sites which we have reviewed presently. A member from PositiveSingles wrote "It brings people living with herpes together in a safe and private environment! Thanks, PS!" while our editor checked 2000+ success stories. In fact, people living with herpes can find someone in the same situation to talk, experienced medical opinions with live counselors, and useful dating advice with PS advisors etc.
Costs:
Standard Membership
Gold Membership(Gold members have access to all the features.)

On PC and Mobile Site:

1 month – $29.95 USD (about $1.00 per day)
3 months – $59.95 USD (about $19.95 / month)
6 months – $95.95 USD (about $15.95 / month)

On IOS APP:

1 month – $33.99 USD (about $1.13 per day)
3 months – $69.99 USD (about $23.33 / month)
6 months – $109.99 USD (about $18.33 / month)

On Android APP:

1 month – $33.99 USD (about $1.13 per day)
3 months – $69.99 USD (about $23.33 / month)
6 months – $109.99 USD (about $18.33 / month)
Therefore, we strongly suggest you purchase the membership on PC or Mobile site. As we tested, the premium membership is available on all the above devices.
Unique Features:
Features for Standard Members are as followings:

Place lifetime profile, post your own first date ideas and view others' and add up to 26 photos;
Search by members' first date ideas, username, birthday and fashion show, find how responsible members are;
Initiate sending free winks, posting comments, blogs, and forums, replying to emails / online chat;
Send birthday/greeting cards;
Know herpes care locations and legal information.
Ask support by live chat and enjoy 24 / 7 phone & customer service by emailing to

support@positivesingles.com

.

Extra Features for Gold Members are as followings(50+):

Initiate sending emails/chatting online;
Search by many ways, eg: Advanced / Saved / Keywords / Photo, State/Province or Zip/Postal Code/City, Living with (by types of STDs) etc;

Private Album

. It allows you to discretely store your photos and only share with those you chose to;
Ask help from STD counselor and dating advisor by email & live chat;
Email/Wink filter settings;
Check if sent mail is read or not on PS;
"Quick Exit" button redirects you to another site quickly to ensure your privacy;
Show up your profile at the very TOP of searches;
Know exactly "who's interested in me" and "who's viewed me".
View last login time;
Show up at the very TOP of searches;
Get highlighted as a featured member;

Manage profile/photo privacy setting;

Have your own account manager to enjoy more personalized services;
And much more.
Wide Reach:
With 1,566,400+ registered members on the site, Positive Singles has become the largest online herpes dating site worldwide for people living with herpes as shown above. Meanwhile, most of these members came from the US, UK, Canada, Australia, and Europe.
Special Settings:
Indeed, signing up to become a member of Positive Singles is as simple as two steps. Besides, it is free to place personal ads on Positive Singles and is ad-free- no intrusive pop-ups, banners flashing or annoying ads to block members from interacting and enjoying the services available.
While registering, you fill out your sex, age, location and the condition you are suffering from. In reality, this information is visible to Positive Singles members only. Even more, if you want to hide your profile from someone, you can manage it on this site. Meanwhile, you can create a private album and give access to your favorites when you don't want others to see the photo. Accordingly, it's very convenient and user-friendly.
What's more, to stop fake or problem profiles, PositiveSingles.com has a wide range of skilled technology settings to limit access to users who are below the age of 18 and creating fake profiles. This would improve the veracity of profiles in the site thus lowering the chances for frauds significantly.
Privacy Settings:
"Quick Exit" button

– Redirects you to another site quickly to ensure your privacy. You don't have to close the entire window if someone walks by while you are on PS.
Privacy Settings – Ensures your profile will not be available to certain members.
Positivesingles.com uses no third party applications or features that may end up rendering you susceptible. All personal information is kept strictly confidential.
Positive Singles has blocked search engines and non-logged in members from seeing your profile.
All features on the site are owned and developed by PS independently.
Private Album – Allows you to discretely store your photos and only share with those you chose to.
Editor's Verdict:
To sum up, we are sure that PositiveSingles.com is the largest, completely anonymous, and most trusted online herpes dating site that people could hope to find on the internet. The considerate and unique settings make people with herpes feel comfortable and friendly. It's not the cheapest dating service, but it really does provide a variety of useful and exciting features (most of them are designed for online herpes dating service only) all over the internet. If you are interested in dating online by using a herpes dating site, your chances of getting a date are highest with Positive Singles.